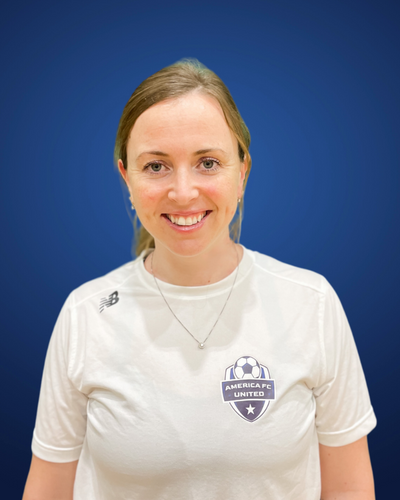 Coach Amanda was born and raised in Syracuse, New York. She began playing soccer at an early age for Syracuse FC and ODP. After being heavily recruited by several competitive D1 soccer programs, she ultimately decided to play collegiate soccer at The College of Saint Rose in Albany, NY (2006-2010) where she was 3-time captain, First Team Daktronics All American, First Team All-Conference, NSCAA First-Team All American, and Player of the Year. Coach Amanda led her team to the NCAA Final Four three years in a row.
In 2008, Amanda began coaching youth soccer (U10-U15) for the Albany Alleycats Premier Soccer Club. During this time, she opened her own futsal business geared at helping youth players better develop their tactical and technical abilities. After graduating with a Bachelors Degree in 2011, she began coaching college soccer as an Assistant Women's Soccer Coach at her Alma Mater. Her focus was player development, speed and agility, and recruiting. In 2015 she became the Director of Student Life and Athletics at Quincy College. She has all the qualities AFC United desires in a coach, and we are fortunate to have her with us since the start of the 2017/18 season.
I believe in stressing the importance of dedication, accountability, discipline, mental toughness, and self-confidence, as the basis for competing to your best ability at a high level. I am passionate about the game of soccer and want to help players find their passion within this game.