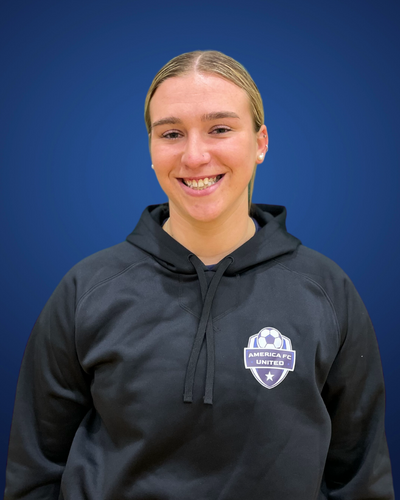 Goalie Coach Maddie Murphy joined AFC in 2022. She brings years of goalie experience to the team and we are excited to have her on board to coach the next wave of fantastic goal keepers.
Maddie Murphy was a West Virginia University Women's Soccer Team member from 2020-2022 where she was a Goalkeeper, Big 12 Commissioner's Honor Roll, Garrett Ford Academic Honor Roll, 2022 Big 12 Championship Winner. She also made NCAA College Cup Appearances in 2020/2022. Before that, Murphy was a member of Boston College from 2018-2019, playing 5 games, and making an NCAA College Cup Appearance in 2018. Before college, Murphy grew up and played in Grafton on Grafton High School's Girl's Soccer team from 2016-2018. While in high school, she was a 3-time team MVP, had 35 career shutouts, was a CMSCA Girls Division 1 All Star, a 3-time SWCL All Star, All State, and a 3-time T&G All Star. Growing up, Murphy was selected to 5 Youth US National Team training camps , played with FC Stars of Massachusetts ECNL and was selected to Nike National Training Center Camp in Portland Oregon in 2015.
Soccer is a team sport. We win and lose as a team. Everyone has a role to do on the field. Play with pride.
Always stay humble and kind